Your Friendly Neighborhood Architect – At Your Service
Fri, Apr 19th, 2019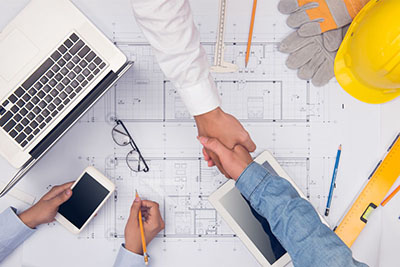 We know what you're thinking; "Why do I need an architect?" Other than the obvious regarding coding issues, there are many reasons to engage an architect for your next project whether large or small. Recently we helped a local restaurant with a design that increased his seating capacity from 140 to 150 patrons, enabling them to obtain their full liquor license.
Help You See the Big Picture
An architect has the training and skill set to cultivate a detailed design based on your specific desires. Following the initial meeting, an architect will develop initial drawings to create the first visual concept for your project. But don't base your decision exclusively on the initial meeting and drawing; Carefully analyze previously completed projects by the company and go from there. Most people only see the aesthetically pleasing exterior of a structure, but architects see the bones of the building and implement that into the "big picture."
Hiring Process
Who better to hire the necessary workers for a job than the architect who designed the layout and construct for the project? These workers have probably been trusted in the past to take on projects similar to yours. Traits that architects are looking for in workers are:
Dependability
Skill
Professionalism
Attention to Detail
Not only are these four traits indicative of the type of work they will produce, but these qualities ensure that they will represent the architect in an upholding fashion.
Reduce the Risk of Unnecessary Mistakes
Today's technology allows architects to create some pretty unbelievable masterpieces far more efficiently than in the past. But that technology is devalued if you don't have an experienced architect you're working with. When you hire South Florida Architecture, the risk of unnecessary mistakes occurring is significantly reduced. Detailed specifications are reviewed countless times to guarantee things go as planned once construction is underway.
As we discussed in our previous blog, communication is key when you're working with an architect. South Florida Architecture encourages you to ask questions and bring up any concerns you may have. We have your best interest at heart and would love to provide a finished product you will be proud of!
(239) 777-0616