The Benefits of Having an Open Floor Plan for your Custom Home!
Tue, Dec 8th, 2020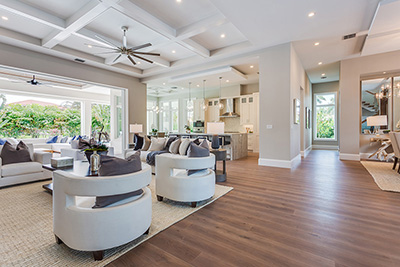 In recent years, more and more custom homes are being designed with an open floor plan. For those who aren't completely familiar with this term, an open floor plan is an interior design that promotes large "open" spaces and minimizes the use of closed-off spaces. Living rooms, kitchens and dining rooms are the most popular spaces where you'll see an open floor plan. Oftentimes the space will transition seamlessly into the outdoor patio space. These rooms will still serve all of the basic area functions, but without full-height walls and doors separating the spaces. Not only does this design give your home a luxurious, modern feel, but it will also improve the energy efficiency of your home.
In this blog, we'll discuss other benefits of an open floor plan and how South Florida Architecture can help you achieve this sought-after design in your new custom home!
Natural Lighting
With minimal interior walls in an open floor plan, natural light shines through your windows and spreads throughout the open space. Natural lighting in homes has been linked to enhancing people's mood and having a calming effect. Not only does natural lighting have a positive effect on people mentally, but financially as well. You will notice yourself using much less electrical lighting throughout the day, reducing your electrical bill.
Air Circulation
Open floor plans are often categorized as a "green plan" because they can significantly improve the circulation within the home. There's such a noticeable difference in open floor plans that many homeowners feel comfortable with minimal air conditioning or ceiling fan usage. There are numerous other factors that go into keeping your space cool, but an open floor plan allows for optimal airflow which will help you stay comfortable.
Makes Entertaining Easier
An open floor plan oftentimes makes the kitchen the focal point. Without walls blocking your view of the living room or dining room, you can do much more than prepare meals or beverages for everyone. You can join in on a lively conversation! This prevents guests from feeling the need to join you in the kitchen. An open floor plan allows them to be comfortable in the living or dining room while conversing with you. A home with a closed-off floor plan often results in a large gathering of people huddled in the kitchen so the host doesn't feel left out.
Space Appears Larger
If you choose to have an open floor plan for your new custom home, it will make space feel significantly larger. Walls, doors and narrow hallways can make a home feel smaller than it really is. When you open it all up, the functional living space is being maximized. The natural light that comes pouring into your home can also make space appear larger as well!
South Florida Architecture
At South Florida Architecture, our architects have over a half-century of design experience staying up-to-date with residential design trends and implementing them into our clients' homes.
If you're looking for architects that will transform your vision into reality, give us a call and Let's Get Started on your custom home!
(239) 777-0616 (Bonita Springs)
(239) 778-6694 (Naples)