How to Create a Luxurious Outdoor Space
Fri, Jan 8th, 2021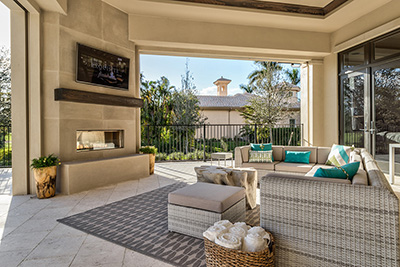 In Southwest Florida, your outdoor living space is almost as important as the inside of your home. This tropical paradise we're fortunate enough to call home allows us to enjoy beautiful weather year-round. When you have a luxurious, scenic and comfortable outdoor space, it increases the value of your home while maximizing the lot your home sits upon. This is where hiring an experienced architect comes into play. We don't just maximize the space inside of your home, we can design the outdoor patio you've always envisioned.
In this blog, we'll describe what it takes to design a luxurious patio space right here in Southwest Florida!
Connectivity
When your indoor and outdoor spaces feel connected, it provides a seamless transition that makes both spaces feel like one magnificent layout. Entertaining becomes easier and gazing upon breathtaking sunsets is suddenly more enjoyable. Open floor plans have become immensely popular over the past few years, that being said, the open layout shouldn't stop with the interior of your home. When the interior and exterior flow, it provides an elegant ambiance that modern-day homeowners absolutely love.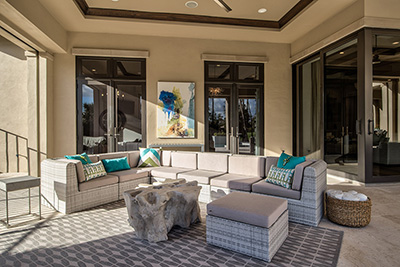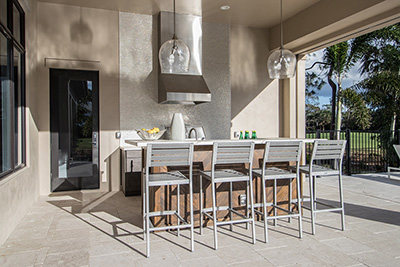 Outdoor Kitchen
Do you love cooking/grilling outside while catching some fresh air? Having a luxurious outdoor kitchen will allow you to enjoy the experience even further. Imagine having:
Outdoor counter space
A sink
Built-in grill
Refridgerator
A place to dine
All of these features sound great for an outdoor kitchen, but having an experienced architect guide you through the process will help maximize the functionality and space of your kitchen.
Ambiance
The ambiance is what people remember about a space as a whole. Was it Relaxed? Beautiful? Breathtaking? Elegant? What needs to be done to establish such ambiance? In Southwest Florida, people love to sit around a fire pit or fireplace in the winter and soak up the crisp air and enjoy the company of loved ones.
Landscaping captures the attention of visitors immediately and provides a strong sense of wholeness to the space. The view from your home will play a strong role in your landscaping decisions. If you have a view of the water, thick shrubs and tall trees might disrupt the ambiance of the space, so shorter plants might be the way to go. If you're on a golf course you might want some extra privacy so golfers can't see directly into your patio. Landscape lighting will also contribute to the atmosphere of your outdoor space.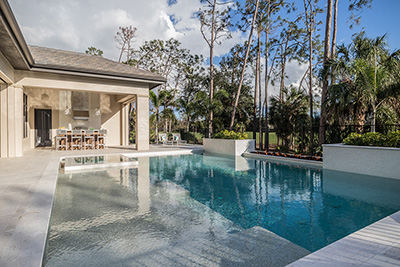 Does the flooring complement the rest of your outdoor space? Brick, travertine and non-slip tile are all popular options in Southwest Florida. If you have a connected floor plan from the interior to the exterior, you might even consider looking at the interior flooring to help you decide on outdoor flooring. This will help the space transition seamlessly.
Swimming pools are very popular in Southwest Florida. They can be a tremendous focal point for your outdoor space. Our tropical climate allows us to get more out of swimming pools than anywhere in the United States. With proper lighting, swimming pools provide an excellent nighttime ambiance for your friends and family. It's also a relaxing place to unwind after a long day.
South Florida Architecture
At South Florida Architecture, we take just as much pride in designing outdoor spaces as we do indoor spaces. All of our architects have a keen eye for outdoor patio design and maximizing the efficiency of the space.
If you would like to revamp your current outdoor space or create one from the ground up, give us a call and schedule your first meeting with one of our architects!
Let's Get Started!
(239) 777-0616 (Bonita Springs)
(239) 778-6694 (Naples)