Advantages of Building a Custom Home
Mon, May 20th, 2019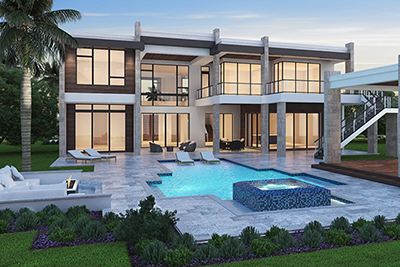 Watching your home transform from the ground up is truly a wonderful experience for the family. Having the opportunity to explain to your children (when the home is in the beginning stages) where their bathroom and bedroom will be when it's finished is something they will always remember. As great as the memories and moments are, in this blog we'll explain the numerous practical benefits that come with building a custom home.
You Get a "Say" in Everything
When you buy an existing home, there is a good chance there will be things that you don't 100% love… Such as the cabinets, countertops, mirrors, paint color, etc. The list can go on and on! In many cases, it would take a major renovation project to meet your desires. When you build a custom home there isn't one thing (within code) that you can't have a say in.
For example, if you want an open concept with a large island and specific countertops, you will be able to have those things from the moment you move-in, instead of living in a construction zone and potentially waiting months for those renovations to be completed.
Cost Efficient
If you think it seems like it might be cheaper to buy an older home instead of building a custom home, you might be right… Initially. Don't forget, when you purchase a home, you're making a major investment. You shouldn't have to deal with any structural/foundational issues shortly after moving in (if at all). On your Saturday off with the family, you're far less likely to be dealing with a plumbing problem in a brand-new custom home, than in a 30-year-old home that 3 other families have lived in. Take into consideration the renovation and repair costs before making your final decision.
Energy-Efficiency
One major drawback to buying an older home is the inefficiency of them. Something as simple as poor insulation can cause your air conditioner to run non-stop, as your money practically vanishes before your eyes. Custom homes are built according to the most up-to-date code and construction practices. Just as any industry evolves over time, so does architecture, construction and contracting. Brand new appliances are icing on the cake to ensure your home is running at maximum efficiency from all facets.
South Florida Architecture would love to design a custom home for you and your family to create life-long memories!
Bonita Springs (239) 777-0616
Naples (239) 778-6694