A Guide To Residential Architecture Designs and Styles
Wed, Dec 12th, 2018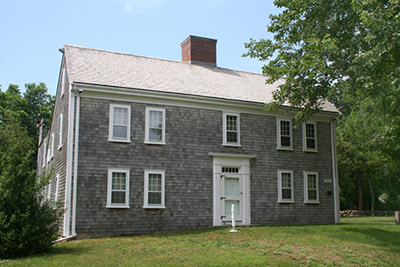 Residential architecture designs can fall under a wide range of categories. Each style is derived from a trend; one that is typically popular during a set time period. However, not every home falls into just one type or style.
That is the beauty of architecture. It is an art form capable of combining, blending, and contrasting various ideas. Residential designs can appear manufactured or completely and utterly unique. It simply depends on the desires of the buyer and the whims, influence, and talent of the architect behind the pencil.
However, in order to imitate a style, an architect must first know how to define it. Each residential architecture style is defined by a set of common features that give a home its personality. These features can often say a lot about the time period in which the style became known. It takes a knowledgeable eye to spot them, but once you know what to look for, you will find yourself identifying them quite often.
COMMON RESIDENTIAL ARCHITECTURE STYLES
To better understand residential architecture styles, we would like to introduce you to a few of the common ones:
THE FEDERAL (LATE 1700'S – 1840)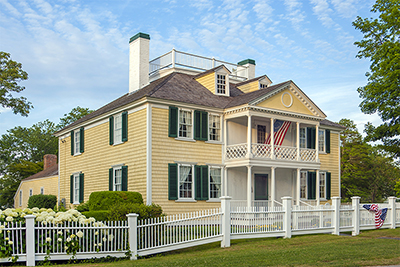 The Federal is a residential architecture style that speaks of a refreshed interest in Greek and Roman culture. Common elements of this style include flat, unadorned walls surfaces, a low-pitched gable roof, multi-pane windows, and fanlight or sidelights around the entrance. You'll notice that many of them feature a Palladian window on the second story, just above the front door.
THE ITALIANATE (1850 – 1880)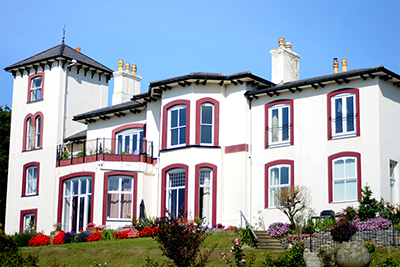 The Italianate appeared in the Midwest, East Coast, and San Francisco during the mid-to-late 1800's. With this style, you'll notice tall, narrow windows which are often arches, decorative brackets, surface ornaments, low-pitched hipped roof, and a possible cupola or tower. Elaborate window designs reappear in the supports, columns, and door frames. It's an ornate design with an elegance that matches the name.
THE RANCH (1930'S – 1960'S)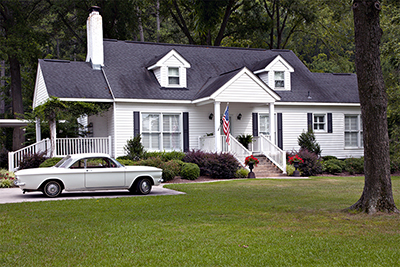 The Ranch home is one that you have probably seen in many older neighborhoods. Most common during the 50's and 60's, it takes after Spanish Colonial, Craftsman, and Prairie homes. You'll recognize them by their one-story, pitched roof design with built-in garage, wood or brick exteriors, sliding doors leading out to patios, and sliding or picture windows. This design is usually asymmetrical and features a low-pitched roof.
THE SPANISH ECLECTIC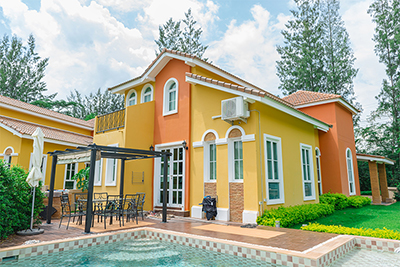 The Spanish Eclectic style has become an iconic feature across Florida and the Southwest. Its obvious Spanish influence meshed with the Moorish, Byzantine, Gothic, and Renaissance architectural styles. The result features stucco walls, low-pitched tiled roofs, and windows and doors that have a rounded top. Other designs of this nature may incorporate decorative tiles around the doorways and windows, a bell tower, or scalloped windows and balconies with ornate grillwork. It's a very distinctive and popular design that has lasted for many years, and continues to be popular today.
THE CONTEMPORARY (1950-1970)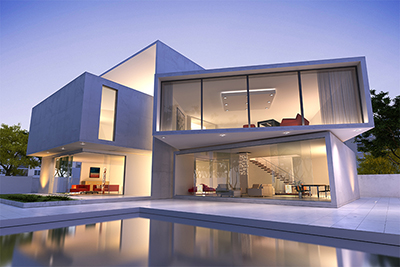 Most Americans who have come across a Contemporary style home find it easy to recognize—even if they didn't know the name. It's tall and often peculiar sized windows, lack of ornamentation, and blend of multiple wall materials such as brick, stone, and wood, often catch the eyes of those passing by. Their aim is to incorporate the surrounding landscape into the overall look of the home.
RESIDENTIAL ARCHITECTURE DESIGN TRENDS
Styles aren't the only defining feature of a residential architecture design. There are also trends. Architects enjoy setting their designs apart from others. We mentioned previously how styles can stand alone or be combined with one another in order to create something refreshingly innovative. After all, many styles that exist today were influenced or inspired by those that came before it.
However, there are also certain features or elements that become trends as talented architects push the envelope of new designs. Consider these 7 Contemporary Residential Architecture Trends that were popular in 2014. These elements can be as simple as a shape, or as complex as patterned facades.
The key to good architecture is finding a way to design a home that appeals to the resident. Style guides that feature different types of residential architecture are just what their name implies: guides. Architecture allows for creativity and ideas that deviate from the norm.
SOUTH FLORIDA ARCHITECTURE: RESIDENTIAL DESIGNS
South Florida Architecture features a highly experienced and creative staff that specializes in Custom Home and Renovation projects for residential housing. We aren't cookie-cutter architects. Instead, we take a personalized approach with every client. During the initial meeting, our architect takes note of your desires as well as the landscape you've chosen for your project, and incorporates both into a unique design.
Have a project in mind? Give us a call at 239-777-0616 and let's schedule a time to talk about it. We're devoted to helping you bring your residential home dreams into reality.