What is One of the Most Important Rooms in Your Home?
Thu, Sep 9th, 2021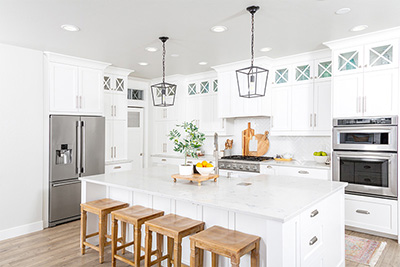 When building a home, you want all of the spaces and rooms to be just right. One of the areas that is often used daily is the kitchen. It is usually used as a gathering place plus many important life decisions are made over a cup of coffee in the kitchen. As an adult, think back, how many happy childhood memories do you have that occurred in the kitchen of your home or your grandparent's home?
It is vital to create a kitchen you, your family and guests will love! One style you may not have considered is a modern farmhouse kitchen. Classic farmhouse style has evolved into modern farmhouse style which is inviting, comfortable, fresh and timeless. Although modern, this style mimics the look and feel of days gone by.
Modern farmhouse design features smooth lines, glossy accents and neutral color schemes. It is more sophisticated, less rustic and incorporates contemporary style elements like stainless steel appliances, sleek lighting and granite countertops.
What is a Modern Farmhouse Style?
Known for its warmth, simplicity and beauty, modern farmhouse style combines a cozy farmhouse look with the sleek lines of contemporary design. Here are five elements of modern farmhouse design:
Neutral colors - These colors make a room seem larger, more airy, clean, and welcoming
Natural elements - Including cotton, distressed wood and stone
Practical - Pieces should be comfortable and practical as they will most likely be used often
Minimalistic - Keep accessories to a minimum for a cozy uncluttered space
Mix it Up - Mix and match vintage and new when it comes to materials
Many of the elements of modern farmhouses are rooted in old-time farmhouse living. For example, back then it was hard to get your hands on many materials except for wood because it was in abundance. Interiors made with wood were common. To recreate this organic look, incorporate wood where you can but with a modern touch.
Add hanging lighting fixtures in steel or iron for contemporary touches and be careful not to overdo the wood to avoid it looking overly arts-and-crafts style.
With everything going on in the world today many people are craving the feel of comfort and cozy homey surroundings. Comfortable and visually appealing, a modern farmhouse style fits the bill.
South Florida Architecture offers interior design services to help you obtain the home of your dreams. Whether it is Modern Farmhouse Style, Bohemian Beauty, Contemporary or any other interior design style, we offer full-service interior design for residential and commercial projects.
With over 30 years of experience, we respond to each project with extensive research in related interior design fields, material, craft and environment for unique solutions as varied as the individuals or groups for whom they are designed. Give us a call (239) 777-0616.
sources: barnandwillow.com