The Dali Museum
Tue, Apr 28th, 2020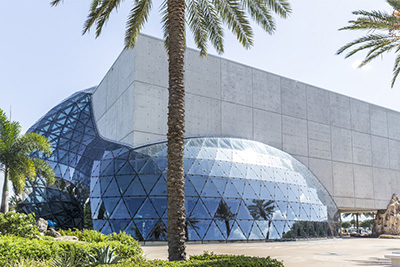 Are you someone who loves awe-inspiring architecture and historical artwork? If so, we strongly advise you to visit The Dali Museum in St. Petersburg, Florida! The Dali Museum was named after surrealist painter and printmaker Salvador Dali. Dali was best know for his creations of subconscious imagery.
In this blog, we'll take you on a field trip to The Dali Museum and show you what makes this Florida architectural marvel so spectacular!
The Building
Thanks to community leaders in the St. Petersburg area, the original Dali Museum opened it's doors in 1982, bringing some of the world's most unique art to the western region of the Sunshine State.
Designed by architect, Yann Weymouth, The Dali's new state-of-the-art building opened its doors in January of 2011. The focal point for the building's exterior consists of 1,062 triangular pieces of 18-inch thick hurricane-proof walls, protruding a giant free-form geodesic glass bubble known as the "Enigma". The Enigma stands at a towering 75 feet tall, a tribute to the dome that replicates Dali's museum in Spain. Inside of the museum, your eye is captured by another architectural feature - a helical staircase - reminding all visitors of Dali's fascination with the double-helical formation of the DNA molecule.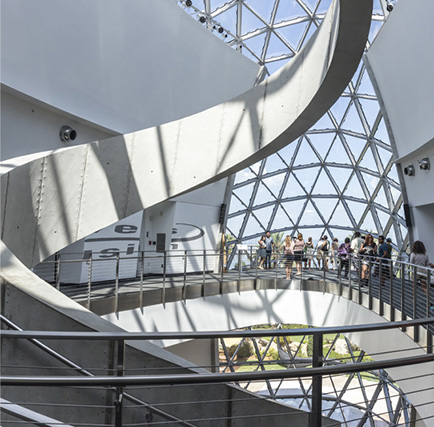 Avant-Garden
Dali's garden is a great place for tranquil learning. The environment encourages students to experience the often overlooked correlation of math and nature. The Southeast corner promotes a sense of exploration and well-being.
First Floor
When you enter through the museum store, you are welcomed by the largest collection of Dali-inspired merchandise in the world. The cafe offers both indoor and outdoor seating, the theatre regularly shows a short film about Dali and the museum, and there are classrooms for children and adults to create artwork.
Second Floor
The Dali Museum library is located on the second floor. This is a great resource for professionals, collectors, and students to study surrealism, Avant-garde, and of course Dali himself. Administrative offices are also located on this floor.
Third Floor
On the third floor, you witness a breathtaking view of the gardens and waterfront through the Enigma. All of the galleries are also located on the third floor.
South Florida Architecture
The Dali Museum is a structure that architects from all over the world appreciate. Not only for its appearance, but it's meaning and what is on display inside. Weymouth truly exceeded expectations when designing this structure; implementing features from the building in Spain, while providing his own personal touch. Whether you live in Florida or are visiting from out of state, a day trip to The Dali Museum is an outing you won't forget!
Here at South Florida Architecture, we're always studying and implementing characteristics that we see all over the world to stay ahead of trends. If you have a residential or commercial project you want to get started on, call South Florida Architecture!
(239) 777-0616 (Bonita Springs)
(239) 778-6694 (Naples)
Source: the dali