A Closer Look Into One of The Most Famous Architects
Fri, Aug 12th, 2021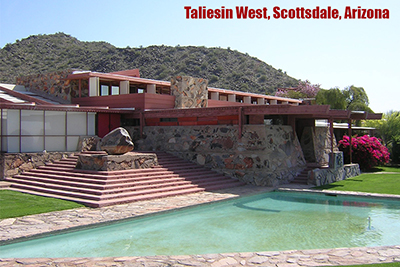 Most of us take architectural design for granted. It is all around us but we really don't notice all of the details unless we are standing in front of a building that is so beautiful that it takes our breath away. There have been many architects over the years but if you ask anyone who the most famous architect is they will probably say Frank Lloyd Wright.
Who Was Frank Lloyd Wright?
Frank Lloyd Wright was an American architect, designer, writer, and educator and he designed more than 1,000 structures over a period of 70 years. He was a pioneer of modern architecture and his work influenced American architecture that can be seen all over the world.
Frank Lloyd Wright designed numerous iconic buildings such as Fallingwater in Southwest Pennsylvania's Laurel Highlands and the Guggenheim Museum in New York City. His work spans the late 19th and mid-20th century.
Frank's parents divorced in 1885 and to help with finances he worked for the dean of the University of Wisconsin's department of engineering and he also was a student at the university. He knew from the age of 18 that he wanted to be an architect.
At age 22 he married and according to FrankLoydWright.org he purchased a wooded corner lot in the Chicago suburb of Oak Park and built his first house, a modest residence reminiscent of the East Coast shingle style with its prominent roof gable. It also reflected Wright's ingenuity as he experimented with geometric shapes and volumes in the studio and playroom he later added for his ever-growing family of six children.
The Prarie Style Home
When Frank fell out with his employer, he went out on his own and opened an office and started his quest to design homes that he believed would truly belong on the American prairie. The William H. Winslow House was Wright's first independent commission which was conservative when compared to work he did a few years later.
From 1899 to 1910 he set the standards for the Prairie Style which were designed with interior walls minimized to emphasize openness and community. The home became a flowing part of the landscape and vice versa.
Usonian Housing
With the financial crisis of 1929 and approaching depression, Frank began working on Usonian Housing. This type of architecture was geared toward more affordable housing with a simplified approach to residential construction that reflected both economic realities and changing social trends. These homes were simple yet beautiful. He designed Usonian homes for the remainder of his career. There were different variations that reflected his diverse client's budgets.
Frank considered the building, furnishings and settings of a home as one and not separate so he also designed furniture, rugs, fabrics, art glass, lighting, dinnerware, and graphic arts.
Five of his most famous building are:
The Guggenheim Museum, New York, New York
Taliesin West, Scottsdale, Arizona
Robie House, Chicago, Illinois
Hollyhock House, Los Angeles, California
On April 4, 1959, Wright was hospitalized for abdominal pains and was operated on April 6th and seemed to be recovering, but he died quietly on April 9th.
Although architecture changes over the years, we can't forget the past pioneers of our profession and how they had the vision to push the envelope and develop new styles and designs.
If you have a vision in mind or are not sure what type of design would be best to fit your needs and budget, contact South Florida Architecture. We can help bring your idea to life! Call us and Let's Get Started!
sources: architecture.org, franklloydwright.org