The Evolution of Post-COVID-19 Workspaces
Mon, May 3rd, 2021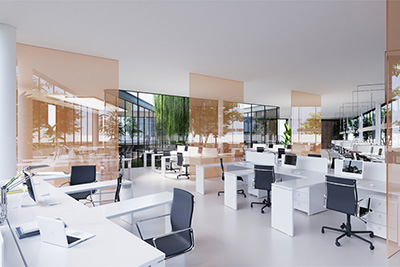 COVID-19 not only forced individuals and families to adjust to unfamiliar circumstances but it altered operations for business owners across the country. Employees suddenly had to work from home at a moment's notice and employers scrambled in an attempt to effectively streamline their business plans.
Nearly 14 months after the beginning of this pandemic, post-COVID-19 plans are beginning to come to fruition. Some workers are back in the office, others continue to work remotely. But one thing is for sure, our way of thinking has changed. Not necessarily for the better or worse, but it's important to always adapt and prepare for the unexpected. We think most people do that now more than ever before.
It's important for employees to feel safe once they return to their workplace. To do this, it's important to keep an open mind and prepare for what the future might hold. In this blog, we'll discuss what work environments will look like post-pandemic and what this means for office workers worldwide.
Prioritize Physical Distancing
There's a challenge that's associated with keeping employees spaced out while maintaining a functional space. For example, offices that utilized narrow hallways might look to redesign their current space and implement larger halls or build around a common area. For many businesses, working collaboratively and in person is necessary. Workspaces that normally fit 20 people in a room, might only fit 7 or 8. Creating a variety of smaller conference rooms, instead of a few large ones, will help prevent large gatherings. If it's a message that the entire team needs to hear, utilizing video conferences is always an option.
Embrace Open Floor Plans
Open floor plans in work environments aren't going anywhere. Old research points to reduced employee production with an open floor plan, but it actually promotes a sense of connectivity and can boost overall morale.
Open floor plans are also much easier to clean. It reduces the number of door handles and cubicle openings in a workspace. Handles and doorknobs are some of the most frequently touched surfaces in an office and harbor tons of bacteria.
Proper ventilation can help prevent the spread of viruses and other pathogens. Open floor plans where workers have a choice to open windows and improve circulation. If opening a window isn't an option, building owners can invest in air purifiers or a climate control system.
Carefully Select Furniture, Appliances, Finishes, and Technology
Furniture: Lightweight and flexible furniture is easy to move, reconfigure, and sanitize. It will help employees feel safe while allowing them to change the floor plan to suit their needs.
Appliances: You can get creative with appliance installations. Instead of one communal refrigerator or dishwasher that everyone touches, designate these appliances to each department.
Finishes: Invest in finishes that are chic and easy to clean. Also, self-cleaning surfaces can remove any bacteria in a variety of ways and are being used in offices across the world.
Technology: Touchless technology is sweeping the workplace to create cleaner working environments; Motion lights and sensors when entering a room, doors opening with sensors or facial recognition, and elevators that open via smartphone codes and applications.
South Florida Architecture
COVID-19 has forced individuals, businesses, and workspaces to adapt. Are you looking to retain current employees, attract new ones, and create an overall healthier work environment? South Florida Architecture can help you design a space that people will feel comfortable and safe in while maximizing production.