Architecture in the Retail Industry
Fri, Aug 14th, 2020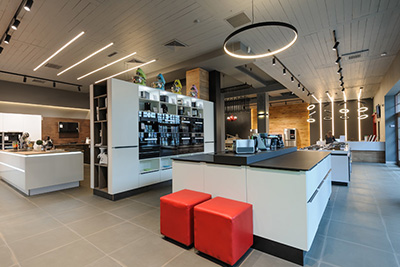 Hundreds of businesses across Southwest Florida open their doors for the first time every year. Sure, it's an exciting adventure, but if you own a retail store, you face a plethora of obstacles that other business owners might not encounter. It takes more than selling a great product to own a successful retail business.
Do you have a reliable staff? Is your business in a good location? Are you marketing your company the right way? All of those things are crucial to the success of your company, but in this blog, we're going to discuss the importance of creative and functional architecture for your retail business in Southwest Florida.
Is it an Engaging Space?
What does the design of your storefront and it's interior say about your business? Everything from concept to delivery must coordinate and follow the same principles. With advancements in technology, more and more people are shopping online. Nearly 38% of all online sales are made on Amazon. Even if you have an e-commerce website to sell your product, many customers will search for something similar on Amazon and look to avoid shipping costs. People don't just shop in retail stores to get their items and go home; they want a fun, enjoyable experience they can feel good about when they decide to checkout, which will entice them to return to your store down the road.
Social Experience
Most of us are being put to the test due to COVID-19, and if you have been fortunate enough not to contract the virus, these past five months have taught us we are meant to be social. If the architecture of your retail store can hone that concept, your business will have the potential to be very successful. But how can you create a social experience in your store through architecture? Social architecture, such as an open floor layout, visually appealing designs, and complementary color schemes can send positive subconscious messages to your customers. When you couple that with friendly customer service, the customer will leave with an upbeat and positive mindset.
South Florida Architecture
Leaving a lasting impression on your customers requires understanding the market, staying up-to-date on architectural trends and putting yourself in the consumers' position. This is quite a daunting task to tackle yourself, that's why it is important to hire the right architecture company that will take your vision to heart and implement it through creative design.
At South Florida Architecture, our architects will design concept sketches based on our discussions to develop a concrete picture of how your retail store should look. We plan for everything, including estimated parking and future development. If you're ready to have the retail store of your dreams right here in South Florida, give us a call today and Let's Get Started!
(239) 777-0616 (Bonita Springs)
(239) 778-6694 (Naples)